Programmable Logic Controllers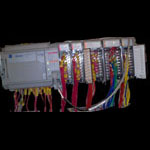 MicroLogix
1762 MicroLogix 1200 Controllers
The MicroLogix 1200 is filled with features and options designed to handle extensive range of applications.
Available in 24 and 40-point versions, the I/O count can be expanded using rackless I/O modules. This results in larger control systems, greater application flexibility and expandability at a lower cost and reduced parts inventory.
A field-upgradeable flash operating system ensures you will always be up-to-date with the latest features, without having to replace hardware. The controller can be easily updated with the latest firmware via a web site download.
MicroLogix 1200R Controllers
The MicroLogix 1200R controller has the following additional functionality and benefits.
Programming/Human Machine Interface (HMI) port in addition to the Channel 0 port — provides an inexpensive means of providing an extra port that can be used for programming using a personal computer with Rockwell Software RSLogix 500 software, or connecting an operator interface device to your controller
Reduced system cost — enables users to directly connect a local HMI, allowing the other port to be used for networking, modem connection, programming and other devices
Requires no configuration — DF1 Full Duplex port that has the same parameters as Channel 0 when it is in its "Default Comms" configuration
Respond Only — Messaging is not available; it communicates by responding to communications initiated from the device attached to it